Forty three years ago I worked a summer as a roustabout on an oilfield work gang. A large part of my job those months was operating a 48" pipe wrench to tighten and loosen threaded connections of all sorts. The senior guys on the crew watched me struggle for a few days (to build character, I guess) before sharing their "secrets". Some of what they taught me is not applicable to bicycle mechanics, like beating on a corroded flowline thread with a sledge hammer to loosen it. But a lot of the principles of wrangling threaded connections apply.
Bicycle pedals are notorious for being hard to remove. One reason is that they self-tighten as you pedal.  This is a good thing – they tend not to fall off. This is why the left pedal has a left-hand thread. Unfortunately this self-tightening effect, along with a bit of corrosion, can make them very difficult to remove, even if they were not over-tightened during assembly.
It gets worse. Many manufacturers have eliminated the wrench flats to shave off a few grams. A 6mm or 8mm allen key must be inserted into the end of the spindle. Try getting any leverage in this position!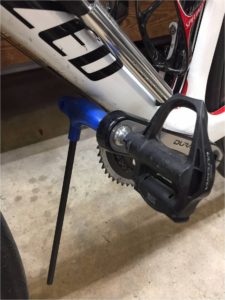 Over the years I have attacked a lot of stubborn pedals, and I have learned some tricks that have enabled me to remove pedals that no one else could. Continue reading "Help, I Can't Get My Pedals Off!"