Here's part two of "What's That @#$% Noise". This was meant to be a one episode thing, but my list kept growing. I'd like to thank my friends who kept reminding me of various vicious noises we've worked on through the years.
Continuing in no particular order:
Bottom Bracket – Bearings
A lot of noises sound like they are coming from the bottom bracket. Many times the source is somewhere else, but sometimes it is the bearings. Last week Virgil brought over his bike with a creaking whenever he pushed down hard on the left pedal. We pried the outer seal off the left bearing (Shimano) and it was all rusty brown inside. But it was ten years old! I'd call that a good run.
Modern sealed bottom bracket bearings are amazingly durable. I have found Shimano external threaded bearings especially long-wearing, as were their prior generation of cartridge bottom brackets. Recently Shimano reduced the size of their bearings, presumably to shave weight. We'll see if they are still as durable. Early failure on some of the other brands of external bearings is not uncommon in my experience.
Often a failed bearing can be felt as a looseness while pushing a crankarm side to side. Roughness or looseness can also be felt by removing the crank and turning the bearings by hand.
Bottom Bracket – Frame Interface
I'll say it right up front. I am no fan of press-fit bearings. There are so many issues that don't exist with a threaded interface. There are two advantages to press-fit in its various forms: 1. It allows the use of a larger OD crank spindle, and 2. It allows frame designers to stiffen the bottom bracket area by making it wider. These are real advantages. But they are offset by one serious disadvantage. An effective (noiseless) press-fit must be machined to a very high level of precision. Machine a precision bore into carbon fiber or aluminum, then press a hardened steel bearing into it, ride a couple thousand miles, bang the bearing out and replace it. Repeat this a few times and your precision interface is not so precise, if it ever was.
For Trek bikes, there is even a 0.1mm oversize bearing set to accommodate frames that were initially too loose or become so.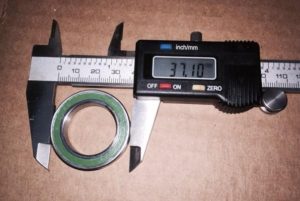 Creaking press-fit bottom brackets are so ubiquitous that there is a market for kits to convert to a threaded torque-able interface.
Threaded bottom brackets can creak too, if the threads are dry or insufficiently torqued. But I know how to fix that.
Truth in blogging admission: Even in threaded bottom bracket designs, the bearings are press-fit into the threaded cups. But, it's a lot easier to manufacture a precision small part, like a cup. And the bearing only has to be pressed in once. Continue reading "What's That @#$% Noise, Part Two"